Of the thousands of applicable quotes, a favorite is from Winston Churchill. "I am easily satisfied with the very best." Your board, constituents, grantors and community feel the same.
Presently, full of life and with different backgrounds, here are a few professionals familiar with MaxCI Assessment Tool™.
Bill Turpin, Master Coach Instructor & Trainer: I am a firm believer that effectiveness begins with self-awareness. To make any significant change, one has to know where to begin. Throughout my years working with nonprofit organizations, not knowing where to begin is the pressing challenge. The MaxCI Assessment is the most effective tool I have ever seen in helping nonprofit organizations begin to transform shortfalls into maximizing their potential.
Michael Kennedy, Professor, University of Kentucky (Systems Theory and GPS): "A system is made up of components with links connecting them. I'm impressed when I see a tool that revolutionizes the quality of links that are important to society. This diagnostic tool brings two systems together, grantors and grantees, with exceptional clarity and usefulness."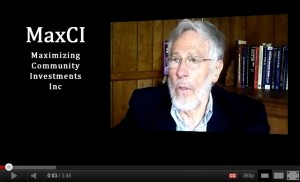 Jim Block, Partner, Johnson Block CPA: "I was surprised to find that taking the assessment was actually an enjoyable experience. The "Levels" and the questions forced me to think more deeply and broadly about organizations as grantees, or grantors, like never before. That perspective was helpful in thinking about what our board should be focusing on."
Jeff Haig, Board Member, Kettle Moraine HOG ® Chapter #5603, Harley Owners Group: "The organizational introspection necessary to complete the assessment was, in and of itself, worth its weight in gold."
Jeff Harvey, Director of Business Development, Qualtrics, Inc.: "The MaxCI Assessment Tool™ is valuable to not-for-profit organizations, but it may be even more valuable to foundations and corporations that grant funds. It is an effective and fair mechanism to screen applicants, and then to fund the most deserving."
Wisconsin Arts Board: "It is with pleasure that I write this letter to praise the MaxCI Assessment, a highly effective tool that our agency, the Wisconsin Arts Board, used… with several nonprofit arts groups."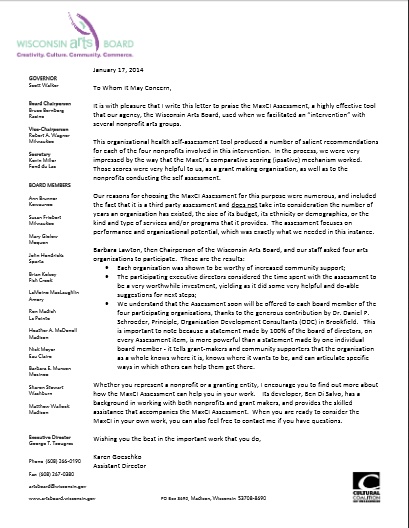 News in the Capital City Hues: Capital City Hues Article
The MaxCI Assessment Tool™ is powered by Qualtrics, Inc., the industry-leading provider of online Survey Software solutions. Please visit their website and note their client banner. www.qualtrics.com
Website advisor and video production Roger Bindl, Bindl Productions.
This and all pages on the maxci.net site are copyright protected.